Florida's "Slayer Statute" And Probate Law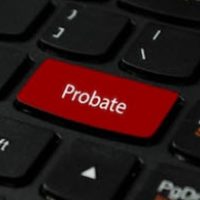 At common law, it was understood that a person who committed homicide could not inherit property from their victim. Florida codified that rule into what has become known as the "slayer statute," explicitly stating that anyone who kills or "participates in procuring the death of" a person may not receive any benefit from their estate. Though it may be surprising, this rule comes up with depressing regularity in Florida's Probate Court, and has been further clarified in terms of its details.
Killer Cannot Profit In Probate
The common-law rule is fairly self-explanatory, but over time, new wrinkles have evolved that have been settled via case law. For example, the law states that anyone who played a role in the death of the decedent may not recover under the will or the Florida Probate Code. Any bequest intended for the alleged killer will be treated as if they had predeceased their victim.
That said, as of this writing, the descendants of a convicted murderer are not barred from inheriting. Florida's courts have been asked to do so repeatedly, because it is a very plausible scenario that a convicted killer's children or grandchildren would simply give money to their incarcerated parent or grandparent, defeating the intent of the statute. However, the courts have declined to look beyond the plain language of the statute, which applies to the killer only.
No Conviction Required
Another fine point of the Florida 'slayer statute' that eventually required clarification is whether or not a murder conviction was necessary in order to deprive an alleged killer of receiving probate assets. The answer, both in cases of self-defense (those not accepted by a jury) and of a person declared not guilty by reason of insanity, is no: if there is no conviction, the court has the right to determine if the killing was "unlawful and intentional," and thus worthy of falling under the statute.
In addition, when inheritance and probate are being discussed, the standard of proof is not the "beyond a reasonable doubt" of criminal law; rather, it is the "greater weight of the evidence" standard used in civil matters. This is a much lower standard, which means that if the court is more convinced than not that the killing was unlawful, the 'slayer statute' will apply. It is possible to be acquitted of murder in Florida, but still be denied the right to recover in probate.
Contact A Hollywood, FL Probate Attorney
While there is reason to apply the 'slayer statute' far too often in Florida probate cases, one can only hope that it never needs to apply in yours. If you have questions or concerns about Florida probate, contacting a Hollywood, FL probate attorney from the Law Offices of Steven A. Mason, P.A. can potentially get those managed. Call our office today to speak to an attorney.
Source:
leg.state.fl.us/Statutes/index.cfm?App_mode=Display_Statute&Search_String=&URL=0700-0799/0732/Sections/0732.802.html