How Does Your Parenting Plan Affect Child Support?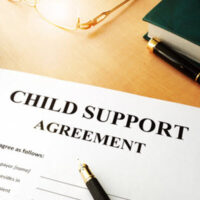 When two people are divorcing, and they have one or more children of the marriage, the issue of child support must come up. Under Florida law, the right of support belongs to the child – not the parents – and cannot be bargained away or waived. The state has a specific set of guidelines intended to establish an appropriate amount for a support payment. However, your parenting plan may change the amount of support that you owe. It is a good idea to take this into account while you are working out your custody arrangement.
Computing Support
If a married couple has children, one or both of them will be responsible for paying child support in the event of a divorce. Florida law establishes specific guidelines for a parent's support obligation, which is primarily based on the parents' combined net income. However, a number of different factors can alter the amount specified in the guidelines, such as the number of children of the marriage in total, as well as the number of overnight stays the children spend with each parent.
One other significant factor that might affect a parent's support amount is any specific needs the children might have – for example, if a child is disabled and requires specialized physical care or educational help, those costs will be borne by both parents, rather than demanding that the custodial parent cover them all. Generally, Florida judges are permitted to deviate from the guidelines' amount if they can show that there is an equitable (fair) reason to do so.
Joint Custody Changes Things
While it is not unheard of for a Florida court to grant sole custody of a child or children if it would be in the child's best interests to do so, the general presumption of the courts is that children benefit most from having a relationship with both parents. If you and your ex-spouse are awarded joint custody of your children, the court will assume that costs will be higher, because technically, each spouse is maintaining a full household. The basic support obligation will be split according to the percentage of overnights that each parent has with the children.
It is also worth noting that if a substantial change occurs in your life that may require a change in your parenting time arrangement, your support obligation may be altered as well, as long as you can demonstrate that support will change by either at least $50 or 15 percent, and your change in circumstances will affect your finances long-term. The most common example of a 'substantial change' is a pay cut, though anything that alters your life fundamentally may fit the proverbial bill.
Call A Hollywood Child Support Attorney
Child support is irretrievably entwined with the issue of parenting time, and when one changes, the other almost certainly will, too. If you have questions regarding your child support obligations during your divorce, the Law Offices of Steven A. Mason, P.A. may be able to assist you in getting them answered. Contact our offices today to speak to a Hollywood child support attorney.
Resource:
scholar.google.com/scholar_case?case=12997989110231626589&q=987+so.+2d+118&hl=en&as_sdt=40006