Imputed Income and Child Support in Florida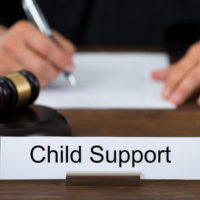 When a couple divorces in Florida, their finances understandably become a primary question during proceedings. This is perhaps most important when discussing the issue of child support, as it is the child, not the custodial parent, that has a right to support, and so the court places a high premium on ensuring it can be paid. For this reason, the court will investigate the income of each parent and factor it into their support calculations. If you are unemployed, the court will do what is referred to as imputing income.
Child Support In Florida
Generally, unless the family's situation simply does not warrant it, child support is assessed by the court any time there are minor children born of the marriage. A family court will take a number of factors into account when determining who should have primary physical custody and who should pay support, including the financial status and the future earning potential of both parties, the current status of the child (how long have they lived in their current situation, are they happy, is it stable, et cetera) and more, and designate how much the obligor (the non-custodial parent) should pay in support.
Sometimes, however, the obligor will take unethical measures to curtail just how much they will be asked to pay in support, because they would rather use the money for something else or they simply think it unfair that they be asked to pay support at all. For example, it is not unheard of for a spouse to voluntarily take a pay cut just to deprive their ex of alimony or child support. Since this does occur, the court will take the step of imputing income to each spouse if they think it appropriate, and then support will be assessed on the strength of that number.
How Is Income Imputed?
Income is imputed or attributed to an obligor when there is reason to think that they would still have that income absent some act on their behalf. In other words, if an obligor leaves their job, it is their problem that they lack that income, and it would be unfair to make the obligee (the custodial parent) foot the entire bill for child care simply because the obligor chose to make less. Under Florida law, the obligee must show that the obligor made a voluntary choice to place themselves in a more impoverished position, and if they cannot do so, the court may not choose to impute any income to the obligor at all. It is also important to keep in mind that if your ex is genuinely forced to take a pay cut by their employer and is able to show this, the court will not make them pay more in support.
In terms of actual amounts, the family court will look to a person's past salary history in determining how much should be awarded, and factor in any imputed income at this point. If the non-custodial parent made an average of $40,000 per year at their last positions, but makes $30,000 per year now, their support payment will reflect the $30,000 per year figure unless income is imputed to that person that raises the amount. If someone has never worked – if they have always remained at home caring for children, for example – they will often be treated as though they worked a full week at minimum wage.
Contact A Divorce Lawyer
While Florida courts are generally committed to fairness in divorce proceedings, sometimes it is necessary to enlist a knowledgeable attorney to ensure that no mistakes are made. The Hollywood child support attorneys at the Law Offices of Steven A. Mason, P.A. have years of experience with these types of questions, and are happy to try and put it to work for you. Contact the Fort Lauderdale and Hollywood Law Offices of Steven A. Mason, P.A. for legal advice at 954-963-5900 or leave a message online.
Resource:
leg.state.fl.us/statutes/index.cfm?App_mode=Display_Statute&URL=0000-0099/0061/Sections/0061.13.html