Is Your Florida Prenuptial Agreement Enforceable?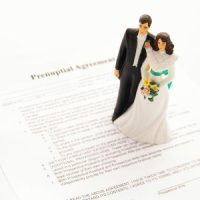 Recent statistics estimate that around 40 percent of U.S. marriages eventually end in divorce, with the percentage rising even higher for second marriages. One step that more and more couples are taking nowadays to hopefully stave off divorce is having a valid prenuptial agreement. Prenuptial agreements can help to prevent many different kinds of disputes – but in order to help a couple keep their affairs in order, the agreement itself must be enforceable, and many are written in a way where enforcement is legally or ethically impossible.
Wide Latitude & Severability Clauses
A prenuptial agreement is a contract, and thus, it generally has to be structured along the same lines as any other contract in Florida, though prenups can have a few unique peculiarities. The relevant state law is fairly straightforward, but what one will likely notice immediately is that it is a very broad law. With certain specific exceptions, almost any issue can be disposed of in a working prenuptial agreement – the law lists several, but also allows any 'other' matter, as long as it does not violate either the state's public policy or "a law imposing a criminal penalty."
One thing to keep in mind is that Florida law recognizes what are known as severability clauses. A valid severability clause in your prenuptial agreement means that even if one provision in the agreement is held to be unenforceable or invalid, the rest of the document will still be seen as enforceable. However, this clause will only apply in situations where the provision does not materially affect the entirety of the agreement – for example, if there is a provision governing distribution of stock dividends, but the portfolio longer exists, that provision may be 'severed' from the rest of the document with no ill effects.
Total Unenforceability
While certain provisions of a prenup may be severable, there are also conditions that will trigger the unenforceability of the entire document. Concealment is perhaps the most common. Florida law requires complete transparency between the parties to a prenuptial agreement; if it comes out that one or both parties have hidden assets or income from each other, the agreement will almost certainly be invalidated because essentially, it contains false information.
The other common reason for a prenup being invalidated is conclusive evidence that it was signed by one party under duress or fraud. This ties into concealment being an offense against public policy; the rationale is that if two people do not start a marriage with a "meeting of the minds," they are not truly executing a valid agreement because they do not have the same information on each side. Florida wants to uphold both statutory and common-law regulations around contracts, and as such, only agreements signed properly and for the right reasons will be considered valid.
Contact A Hollywood, FL Prenuptial Agreement Attorney
A prenuptial agreement can help two people start a marriage off right, helping them to dispose of financial and emotional issues that might otherwise cause problems during a divorce. However, a working prenup must be constructed appropriately and be enforceable in court. If you and your fiancé are interested in a prenuptial agreement, it is crucial to do it right. A Hollywood family attorney from the Law Offices of Steven A. Mason, P.A. can try to answer any questions you may have about the process. Contact our office today to speak to an attorney.
Source:
leg.state.fl.us/Statutes/index.cfm?App_mode=Display_Statute&URL=0000-0099/0061/Sections/0061.079.html