Making Changes To Florida Child Support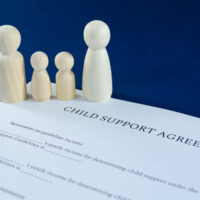 When two parents get divorced in Florida, their divorce decree will invariably include a required child support payment from the noncustodial parent (except in very rare situations). Florida law holds that a child generally has the right to support from both their parents, and a failure to support can be actionable. However, the amounts required in the divorce decree are not set in stone, simply because life changes may happen. If you need to seek a modification of your child support obligations, this can be done, though there is a procedure to follow in doing so.
Different Reasons For Requesting
The two most common reasons why modifications of child support are requested have to do with money and time. Any parent can experience a sudden change in their financial circumstances – a firing or a pay cut can happen when one least expects it. If someone suddenly has less money with which to meet their support obligation, they can seek a modification so that they are not placed in an awkward position with regard to paying their own bills.
The other reason to seek a change has to do with what the courts have referred to as "actual parenting time" or "parenting patterns." Normally, when support obligations are created during a divorce, they are at least partially based on the spouses' parenting plan as written. However, if it later comes out that one party is taking more or less time with the children (and thus deviating from the parenting plan), it may be grounds to ask for a change in one's support obligation. If one parent is spending more time with the kids, they may be able to demonstrate that more support is required. 
Specific Circumstances Required
The relevant Florida statute regarding child support states that obligations are modifiable in three scenarios: (1) if the change would be in the best interests of the child; (2) if there is a substantial change in circumstances on the part of the obligor (the payor) – generally more than $50 or 15 percent, whichever is greater; and (3) if the child reaches the age of majority, is emancipated, or takes any other step that renders them a legal adult (such as joining the armed services).
It is important to keep in mind that the "best interests of the child" and a "substantial change in circumstances" are not vague concepts; rather, Florida courts have a clear idea of both of these legal theories, and will not react well to a parent's attempt to reinterpret either one. For example, a 'substantial' change will be more than an inconvenience; it must materially affect the life of the person seeking the modification. If a parent simply wants to pay less, their request for a modification will be emphatically denied.
Contact A Hollywood, FL Child Support Attorney
While your children have the right to support from both their parents, you have the right to seek a change in the payment amount in order to support yourself. If you have questions about your financial obligations, contacting a Hollywood child support attorney from the Law Offices of Steven A. Mason, P.A. may be the first step toward getting them answered. Contact our offices today at (954) 963-5900 to speak to an attorney.
Resource:
leg.state.fl.us/statutes/index.cfm?App_mode=Display_Statute&Search_String=&URL=0000-0099/0061/Sections/0061.13.html