Military Divorce: Active Duty Vs Reservists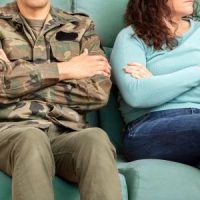 Military divorce can be a complex endeavor, with many different issues to be settled before the two individuals can go their separate ways (and this goes double if the couple has children). One potential wrinkle that many fail to consider in terms of asset distribution is the status of the military servicemember – there may be major differences between those on active duty and those who are reservists.
Retirement "Points" vs Time Spent
Since the 1982 passage of the Uniformed Services Former Spouses' Protection Act (USFSPA), state courts are allowed to value "disposable" military retired pay as an asset during divorce, meaning that it can be divided between the spouses, if appropriate. Normally, a servicemember's retirement pay is calculated by the amount of time served – in all but the rarest cases, a servicemember needs 20 years of service to be able to retire, but 20 years does not necessarily mean "good" years of service.
Reservists' retirement pay, however, is calculated by the number of "retirement points" one earns, because reservists are not racking up points every day (if they were, they would be considered active duty!). In divorce proceedings, what this means is that if a reservist does not have enough points to be able to retire, there will be less (or sometimes, no) disposable retired pay to divide with the rest of the couple's assets.
Jurisdiction Questions
The other way that a military divorce may differ between active duty servicemembers and reservists is the issue of jurisdiction. In both civilian and military divorces, the court in which you file your petition must have jurisdiction to hear the case. If a court has jurisdiction over a defendant and a case, it means the person has sufficient contacts with the area where they have reason to abide by its decision.
An active duty servicemember often has several possible places where they could file for divorce – for example, the place where they are residing, the place where their domicile (permanent home) is, or the place where they own a home. A reservist, however, is likely going to be restricted to the place in which they reside – the rationale is that reserve service does not take an individual far enough from home where any other jurisdiction would be appropriate. Trying to file their divorce anywhere else could conceivably mean rejection.
Contact A Hollywood, FL Military Divorce Attorney
Military divorce can have extra concerns that civilians might not face, and this is true for reservists as well as active duty servicemembers. If you have questions or concerns about your pending military divorce, a Hollywood military divorce attorney from the Law Office of Steven A. Mason, P.A. may be able to assist. Contact our office today at (954) 963-5900 to speak to an attorney.
Source:
nclamp.gov/publications/take-1/uniformed-services-former-spouses-protection-act-usfspa/