Military Divorce While Deployed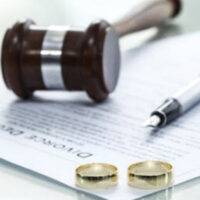 Like any other couple, members of the U.S. military get married and divorced. However, spouses where one or both members are active duty service members will face some different hurdles that they must manage before their divorce can be final. It is important to consult an experienced military divorce attorney before opening proceedings, so that you can be aware of the specific requirements of divorce while on active duty.
Jurisdiction Questions
Jurisdiction is one of the major differences between civilian and military divorce, because depending on a servicemember's status, you may have more than one option as to where your divorce can be filed (which, in turn, may make a difference as to the method of asset division or parenting time arrangements). There are generally three options, any of which may be more appropriate than others, depending on your specific situation: where you reside, where your spouse resides, or where the servicemember spouse is stationed. (Obviously, if any of these are the same, there will be fewer options to choose from.)
You are generally encouraged to file suit in the state where you have the most legal ties – it makes the most sense to go through the legal process in a state where you have the strongest roots. If that is Florida, be aware that state law does require you or your spouse to have been a resident of the state for at least 6 months before you can file a petition for dissolution of marriage.
Proceedings May Be Delayed
One other important thing to remember if you are trying to divorce while one or both of you are deployed is that proceedings may be delayed by a law referred to as the Servicemembers' Civil Relief Act (SCRA), which protects servicemembers on active duty. The SCRA essentially postpones certain civil obligations that you might otherwise be required to meet immediately – its protections begin on the date you start active duty, and end after discharge (usually between 60 and 90 days).
The SCRA protects active duty servicemembers from eviction (in most situations), from foreclosure, and from divorce or child custody proceedings. In divorce cases, the servicemember is allowed to request a "stay" in the proceedings if they can show that their duties would prevent them from participating in the divorce to a sufficient degree. It may feel frustrating, but the law is designed to protect the rights of servicemembers who may be deployed far from where they live, so that they do not have the proverbial rug pulled out from under them when they return home.
Call A Hollywood Military Divorce Attorney
Divorcing is never easy, but trying to do so while deployed, or while your spouse is deployed, is next to impossible. If you have questions or concerns about your divorce from a military servicemember, Attorney Steven A. Mason has many years' experience in these matters, and the Law Offices of Steven A. Mason, P.A. can help you navigate your Hollywood military divorce. Contact us today to schedule a consultation.
Resource:
flsenate.gov/Laws/Statutes/2018/61.021