Myths On Military Divorce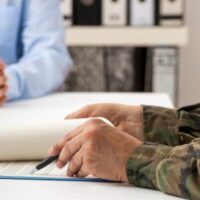 Getting a divorce as a military servicemember can mean certain requirements and obstacles that civilians can ignore. However, a lot of misinformation is out there on the subject – and relying on misinformation can lead to considerable time and trouble in court. Before filing your divorce, it is a good idea to consult with an experienced attorney to minimize the risk that you may be led astray.
MYTH: Your ex-spouse is automatically entitled to half of your retirement pay under the Uniformed Servicemembers' Former Spouses' Protection Act (USFSPA).
Fact: The USFSPA was passed in 1982 in response to a Supreme Court case that denied military spouses any part of their ex's retirement pay. However, the USFSPA merely permits state courts to treat retirement pay as marital property, rather than income – it does not demand that they grant any percentage to either spouse. That decision is left up to the court in your case.
MYTH: Your ex-spouse can only receive part of your retirement pay if you were married for at least 10 years, during which you served at least 10 years of 'creditable' time (the so-called "10/10 Rule").
Fact: A spouse married to a military servicemember for any length of time may receive part of their retired pay. The 10/10 rule only governs the method by which they may receive payments – namely, either direct from the Defense Financing & Accounting Service (DFAS), or from your ex-spouse.
MYTH: Disability pay is divisible upon divorce, just like retirement pay.
Fact: While retirement pay is generally divisible by a state court during a divorce, disability pay is considered separate property and cannot be divided under any circumstances.
MYTH: There is no chance that you will gain custody of your children if you are active duty military.
Fact: The only thing in Florida law that will generally be a bar to child custody is clear and convincing evidence that you have "abused, abandoned, or neglected" your children. Florida law may require you to tailor your parenting plan with your ex-spouse in a certain way, so as not to expose your children to too much upheaval – but your right to seek custody of your children is in no way restricted by your profession.
NOT A MYTH: If you are ordered by a court to pay child support, your commanding officer or a superior officer in the chain of command can order you to comply with the court order, if it concerns supporting your dependents.
This is not a myth.  Although it is true that the military would prefer the civilian courts to handle child support matters, if the civilian courts have not yet become involved, each military service has a regulation which dictates the importance of supporting one's dependents, spouses and children.  Each service provides guidelines concerning what is an appropriate amount to send to your dependents, absent a court order.  A destitute spouse, without other recourse, knows to call the servicemember's commanding officer, and ask that the officer order the servicemember to pay the required amount until a court order is entered.  At that time, the commander can be asked to sup0ervise and ensure that the soldier pay the amount ordered by the court.  Failure to do so can be a court-martial offense, or end a military career.
Contact A Hollywood Military Divorce Attorney
If you are divorcing while still a military servicemember, it can be difficult to juggle all your responsibilities at once. A Hollywood military divorce attorney from the Law Offices of Steven A. Mason, P.A. can help to shoulder the load and answer questions you may have about the process. Contact our offices today to speak to an attorney.
Resource:
dfas.mil/Garnishment/usfspa/legal/