On Florida Prenuptial Agreements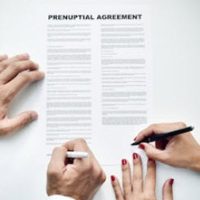 Once seen as only necessary for rich people, prenuptial agreements or prenups are much more common for couples in all walks of life. While not every marriage will be in need of a prenup, there are several situations in which one may make life substantially easier in the event of a divorce or other major life event. Contacting an attorney well versed in these issues can help to answer any questions you might have.
Many Potential Positives 
Prenups very often get a negative reputation, not least of all because they are the opposite of romantic (which can feel awkward, unnecessary, or outright mercenary in the flush of new love). However, there are many different reasons why a prenup may be a good idea for you and yours, not least of all because planning for the future together – even if the future may be individual – can bring couples a sense of safety.
Prenups in Florida can include nearly anything, from asset disposition to the right to spousal support. The spouses can also include a provision regarding the choice of law that will govern the actual agreement. About the only thing that cannot be resolved by a prenup is a child's right to support in the event of a divorce – the rationale is that that right belongs to the child, not the parents, so they would have no authority to bargain that right away.
Who Chooses A Prenup?
One of the most common situations where a Florida couple may choose a prenup is if they are entering into a second or third marriage (particularly if there are children of those marriages). If this marriage fails, a disposition of assets can throw a wrench into previous economic plans – for example, paying for a child's college tuition may become impossible if asset division or spousal support demands are too steep. A prenuptial agreement can help to minimize those concerns.
Another situation where many couples choose to have a prenup is if one or both of them have a sizeable amount of separate property prior to the marriage. In Florida, property can be separate or marital, and it is seen as fluid, to the point where separate property (owned by one spouse) can become marital property if sufficiently commingled with marital assets. Upon divorce, marital assets and debts are divided equitably (fairly, not necessarily equally); however, assets that have been specified as separate property in a prenup will almost always stay separate property.
Contact A Hollywood, FL Prenuptial Agreement Attorney
Getting married is meant to be a happy event, but it cannot be a reason to leave all your affairs to chance. If you and your soon-to-be spouse are interested in having a prenup to settle some of your affairs, contacting an attorney well versed in this area of law is a must. The Law Offices of Steven A. Mason, P.A. has handled many of these matters and will work hard to assist you with yours. Contact our office today to speak to a Hollywood family attorney.
Source:
leg.state.fl.us/Statutes/index.cfm?App_mode=Display_Statute&URL=0000-0099/0061/Sections/0061.079.html