Parking Violations & Florida Condo Associations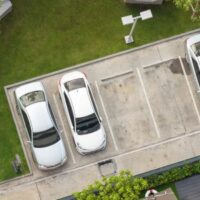 When you rent or purchase a condominium in Florida, you should be aware that the strong majority of them are overseen by condo boards, which have guiding rules and regulations that must be obeyed. One of the most common causes of disputes between condo owners, or between an owner and the condo board, is parking. Violations may seem minor, but in extreme situations, they may breed cases that wind up before a judge. If you have questions or concerns about a parking dispute with your condo board, contacting a knowledgeable attorney can help.
Condo Board Can Regulate Parking Lots
In Florida, community associations generally have the right to regulate the 'common elements' of their premises, which are the parts of the building and grounds that do not specifically belong to individual owners. Examples might include facilities like a pool or gym, locker rooms, heating systems, or the building security system. Parking lots can also be designated as common elements (though specific assigned spaces fall under the heading of 'limited common elements,' which are slightly different).
A condo board has the right to regulate the common elements, as long as they do not violate the rights of individual owners. The board may establish regulations surrounding parking lots and spaces – for example, regulating the types of vehicles that may be parked in the lot. It is fairly common for a condo board to ban vehicles like commercial trucks, RVs, or boats in trailers. Another common rule for condo parking lots regulates specific times and locations, such as prohibiting vehicles parking in fire lanes.
If You Violate Regulations
What many in Florida do not realize is that community associations like condo boards have quite a lot of power to take action against a condo owner, should they violate the rules. Whether or not they choose to use it is up to the individual board, but in general, a board will gradually escalate consequences for owners who violate the bylaws, from warnings to fines to towing and beyond. If the behavior persists, the board can initiate mandatory arbitration against the owner, and in the most extreme cases, you can be found in contempt of court if you fail to comply.
The board's power notwithstanding, it is still important to keep in mind that parking regulations must comply with state and federal fair housing law. Disabled people have the right to seek reasonable accommodations from their community association (such as an assigned parking spot close to the building), and the accommodation can only be refused if it would constitute an undue burden on the board. All condo bylaws have to be in compliance with state and federal law.
Contact A Hollywood, FL Condominium Law Attorney
Parking in the wrong space one time, when you were in a hurry, is not generally the same as a repeated pattern of failing to comply with condo bylaws. If you have questions or concerns about a parking lot violation, the Hollywood condo association lawyers from the Law Offices of Steven A. Mason, P.A. can try and assist you. Contact our offices today for a free consultation.
Resource:
flsenate.gov/Laws/Statutes/2020/0718.108