Prenuptial Agreements & Estate Planning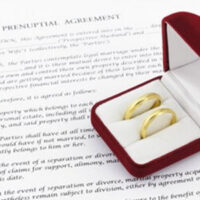 Most of the time, prenuptial agreements, called prenups, are executed by two people planning to marry, with the intent of establishing which assets they want to retain and divide in the event of a divorce. However, prenups have other uses – most commonly, to establish bequests and other preferences surrounding one's estate planning. It can seem premature for young people to talk about estate planning, but it is a good idea to include this type of thing in a prenup so as to avoid future wrangling during a probate estate.
The Elective Share
When a Florida spouse dies, the surviving spouse is entitled, by law, to receive what is referred to as the elective share of the estate. This is intended so that the surviving spouse is not left with nothing due to a vindictive ex or a lack of estate planning documents. In Florida, the elective share is usually around 30 percent of the deceased person's assets, though the actual amount is calculated using complex formulas. That said, many spouses elect to waive the elective share, and use their prenup to do it. The rationale is that their spouse, in theory, will provide for them more effectively than the law.
The major function of a prenup is to ensure that certain assets remain in the right hands, even in the event of divorce or death. If specified in a prenup, for example, non-marital property that belongs to one spouse can remain their property, without fear of being assimilated into the marital estate. This is important because the elective share is calculated by factoring in both property acquired during the marriage and owned beforehand; if your prenup specifies that an asset belongs to your spouse and not to you, it will not be included in the elective share calculations.
Second Marriage Questions
The other significant role that prenups can play in estate planning involve second-marriage issues, especially if the second marriage occurs later in life. Questions like properly managing retirement funds and providing for children (from either marriage) can be handled in a prenup; state law gives quite a lot of latitude to those executing these agreements. The only real stumbling block to enforcement of a prenup is if fraud or duress has been shown to have occurred (for example, if one spouse did not have a complete financial picture from the other spouse before executing the agreement).
Prenups are not always binding; Florida courts will overlook any agreement that runs afoul of the law or of public policy. However, if the contract is valid, it will control the disposition of any issues contained in the agreement. If you or your spouse want to change something, you can create a new agreement or make changes to other estate planning documents, but either way, enlisting a knowledgeable attorney is a crucial part of going forward.
Call A Florida Prenuptial Agreement Attorney
Prenuptial agreements are useful tools for people who want to make sure that all of their proverbial ducks are in a row; ensuring that your wishes are expressed in the event of major life changes is something that can bring real peace to an individual. A Hollywood family attorney from The Law Offices of Steven A. Mason, P.A. can help you get your documents in order. Contact the office today to speak to an attorney.
Resource:
leg.state.fl.us/Statutes/index.cfm?App_mode=Display_Statute&URL=0000-0099/0061/Sections/0061.079.html
https://www.stevenmasonpa.com/red-flag-in-your-florida-prenuptial-agreement/