Property Classification & Distribution in Florida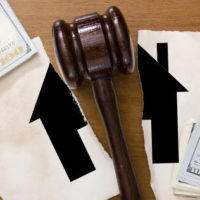 When two people get married, they both bring property into the marriage, but the bulk of a couple's assets are acquired either in anticipation of the marriage or during it. As such, most couples will have both marital and separate property between them. It is important to classify assets appropriately, because only marital property is divided by a court during divorce proceedings, under the principle of equitable distribution. Misclassifications can draw out the length of your divorce case, and potentially lead to financial inequality between the spouses.
Separate vs. Marital Property
Most courts will begin by isolating marital assets from separate or individual assets. As one might expect, separate property refers to assets specified as such in prenuptial agreements, or to assets brought into the marriage by one spouse alone. Most other things qualify as marital property (items bought during the marriage or with money classified as marital, such as funds from the spouses' shared checking account). However, there are some assets that occupy a grey area of sorts, where either classification could apply depending on the specific details.
Perhaps the best example is real estate, also sometimes called real property. Many couples, upon marriage or at the time of purchase, will elect to hold property as tenants by the entireties, which is a specific designation only available to married couples (others who hold real property as co-tenants can do so via other designations like tenancy in common or joint tenancy). A tenancy by the entirety is where both spouses of a married couple both have an undivided interest in the property, and both have full rights to use and enjoy it, meaning that any attempt to sell the property must have the other spouse's consent. If a piece of property is held as a tenancy by the entirety, it creates an almost ironclad presumption that the property is marital, even if it was originally owned by one spouse. If the property is held via tenancy in common or joint tenancy, there is, in theory, more room to debate.
When One Becomes The Other
One of the main problems that many couples encounter is that sometimes, a spouse will use or administer a separate asset in a way that effectively turns it into a marital asset without their knowledge or realization. This can cause problems, because asset distribution can then wind up very differently than predicted. For example, if money from the shared marital bank account is used to make the payment on one spouse's personal car or truck, it is conceivable that a court could hold that automobile to be marital property.
Be advised, nonetheless, that while under Florida law, equitable distribution begins from a presumption that assets should be divided equally, the court does have the authority to award more or less to one spouse depending on the nature of the assets themselves. In other words, courts may hold that separate property becomes marital property depending on the situation, but if there is reason to award that spouse the asset anyway, the court will likely do so. The relevant statute lists a number of factors that a court can entertain in deciding how best to divide marital assets, including the economic situations of both parties and any existing need to retain an asset. If, in the example, the car or truck's owner cannot make it to their place of employment without that vehicle, the court would likely award it to them even if it was classified as marital property.
Ask An Experienced Attorney
Divorce is, very often, messy and complex. Having a knowledgeable divorce lawyer behind you can help set your mind at ease. The zealous Hollywood divorce attorneys at the Law Offices of Steven A. Mason, P.A. are ready to help answer your questions and get you through the process.
Contact the Fort Lauderdale and Hollywood Law Offices of Steven A. Mason, P.A. for legal advice at 954-963-5900 or leave a message online.
Resources:
leg.state.fl.us/Statutes/index.cfm?App_mode=Display_Statute&URL=0000-0099/0061/Sections/0061.075.html
law.cornell.edu/wex/tenancy_by_the_entirety