Separate Property In Florida Prenuptial Agreements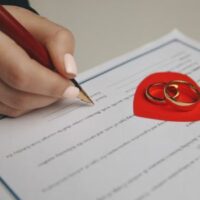 When two people want to get married, they often consider executing a prenuptial agreement to avoid any future disagreements on asset disposition in the event of a divorce. However, one important purpose of a prenup is also to delineate exactly what counts as separate property, never to mix with the marital property that will later be acquired. If you have assets that you want to retain separate from the combined marital property you and your spouse will later develop, it is important to ensure that your prenuptial agreement is executed in the appropriate way.
Why Keep Assets Separate?
A prenuptial agreement is essentially a contract, executed by you and your spouse, setting out the status of certain assets and the disposition of what you may acquire in future. Florida's relevant law allows almost anything to be regulated by a prenup, but specifically, the future spouses are able to specify which assets they bring to the marriage and would like to retain as separate property going forward.
There are several reasons why someone might wish to keep certain assets separate, up to and including simple preference. If one spouse purchased, say, a car before their marriage, and spent their time and money restoring it, they may want to specify it as separate property so that a potentially vindictive spouse may not receive it in a divorce. Another reason many specify some assets as separate property is to try and preserve it for children of a previous marriage, who might not inherit otherwise.
Debts Can Be Separate
The process for categorizing assets as separate is fairly straightforward, but it is important to keep in mind that debts may also qualify as separate property. For example, student loan debt taken out by one spouse before marriage remains their obligation; their spouse cannot be reached for payment. Some debts will be deemed marital property, especially if they are maintained or some of the amount is paid with money classed as marital property, but some will remain only the responsibility of one spouse.
Something else that couples who execute a prenup should be aware of is that if an asset is classified as separate in your agreement, a divorce court will usually consider it separate property since your intention was clear, but not always. Sometimes, property will be considered marital if it has been commingled with marital funds or its character has otherwise changed away from being demonstrably separate. Each case is different, but this can and does happen.
Contact A Hollywood Prenuptial Agreement Attorney
Every couple's situation is different, but prenuptial agreements can save time and trouble for many. If you are interested in executing a prenuptial agreement with your future spouse, calling an experienced Hollywood family attorney can be a good first step. The Law Offices of Steven A. Mason P.A. handles many of these cases, and can help you with yours. Contact our offices today at (954) 963-5900 to schedule a consultation.
Resource:
leg.state.fl.us/Statutes/index.cfm?App_mode=Display_Statute&URL=0000-0099/0061/Sections/0061.079.html