Should We Get A Prenuptial Agreement Before Getting Married?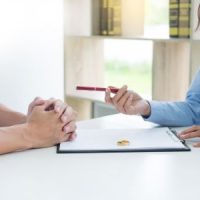 With many first marriages, romance is the order of the day, and no one wants to talk about finances. However, though it may sour the mood, it is generally a good idea for most couples to execute a prenuptial agreement, or 'prenup,' before their wedding. Even if the engaged couple has no intention of ever divorcing, one never knows what life can throw at them, and a prenup can protect both spouses should things go south.
What Is A Prenup?
A prenup is a legal contract to which both spouses are party. Its purpose is to clarify and divide assets, both upon the marriage and in the event of a future divorce, and it becomes effective once the marriage has occurred. Prenups generally establish property rights: for example, Florida law allows spouses to include a provision in their prenup allowing either spouse to "buy, sell, use, transfer, exchange [ … ] or otherwise manage and control property" in whichever way they deem appropriate.
The other major reason to have a prenup is to establish certain agreements that will come into effect upon the event of a future divorce. For example, the spouses may agree between them to waive the option of spousal support, or clarify who may retain possession of a certain specific asset. The only right that Florida law explicitly forbids disposing of in a prenup is the right of a child to support – that right belongs to the child in question, rather than to its parents.
Is It Worth It?
There are several possible advantages to having a prenup, even if you do not believe that your marriage requires one. Agreeing to procedure and asset division for a future divorce can save you considerable time and trouble if a divorce actually occurs; the mental and emotional toll can be significant. The less time spent arguing the finer points during a divorce process, the better.
Despite the lack of romance in the prenup process, it can actually bring some couples closer together. Talking about 'difficult' topics like finances, divorce, or inheritance rights can strengthen a couple's bonds and their willingness to be honest with each other – and with communication, any marriage can work.
Contact A Hollywood, FL Prenuptial Agreement Attorney
It may not seem that you and your soon-to-be spouse need a prenuptial agreement, but on the whole, it is generally a good idea to have one. If you have further questions or concerns, calling a Hollywood, FL family attorney from the Law Offices of Steven A. Mason, P.A. may be your first step toward greater peace of mind. Call our office today to speak to an attorney.
Source:
leg.state.fl.us/Statutes/index.cfm?App_mode=Display_Statute&URL=0000-0099/0061/Sections/0061.079.html