Testamentary Trusts Vs. Living Trusts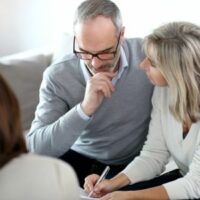 Florida is known as a state with favorable estate planning laws, offering several different ways to pass on your assets to the heirs you choose with minimal bureaucracy and bother. A trust is one of the most common estate planning tools that is used to make certain that assets reach the right people – but there are different types of trusts and choosing the right one for your particular situation can smooth out the process for you and yours.
Testamentary Trusts
A testamentary trust is one of the two most common types used, and it is created by a provision in a person's will. Testamentary trusts are favored by those who want a high degree of control over their bequests – they are the one who creates the trust, and the provisions establishing the trust and distributing its proceeds do not take effect until the testator's passing. This does mean that the testamentary trust does not technically exist until certain milestones have been reached.
It is important to keep in mind that unlike most other types of trust, a testamentary trust does not avoid the probate process. Indeed, the trust cannot technically be created until after probate is complete – which in Florida can be months or even years. Thus, a beneficiary who is anxious for a quick distribution may be forced to wait a long period of time, depending on the complexity of the estate and the backlog in the courts.
Living Trusts
The other common type of trust used in Florida estate planning is a living trust, also called a revocable trust, which is created before the passing of the settlor (the trust's creator). Unlike with a testamentary trust, a living trust is a separate document – not related to the person's will – created by placing assets into the trust during the settlor's lifetime, effectively removing them from the settlor's possession. Since the assets have effectively been transferred during the settlor's lifetime, though, there is no need to go through probate to transfer them upon their passing.
It is important to keep in mind that only assets in the trust are insulated from the probate process. Some other assets may be able to pass without probate – for example, any real property that is jointly held will simply pass to the other owner – but most of the time, if it is not in the trust, it must be probated. It is crucial to properly fund and stock your living trust if you want to avoid the process, but too many people try to handle these matters alone, and fall short. Enlisting an attorney to help create your trust can help eliminate these issues.
Contact A Hollywood Estate Planning Attorney
Planning one's estate is a process that can be complex, and trying to handle all the details yourself can be too much for any one person to handle. Hollywood estate planning attorney Steven A. Mason has experience with these matters, and we are happy to try and put it to work for you. Contact our offices today to speak to an attorney.
Resource:
leg.state.fl.us/statutes/index.cfm?App_mode=Display_Statute&URL=0700-0799/0736/Sections/0736.1106.html