The Problem With Holographic Wills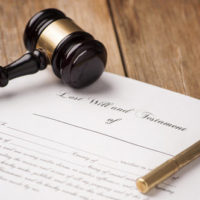 When a person decides to write their own will, usually in their own handwriting, it is referred to as a holographic will. Sometimes, this is the best option for them, especially if they have few assets and few heirs. However, even if a holographic will might be a good option for someone, it is not without its problems under Florida law and in general. Generally, it is recommended to have an attorney handle your will and any other estate planning documents you may need, so as to ensure mistakes are not made.
Wills Must Meet Strict Requirements
Arguably the most important reason that holographic wills are generally best avoided is that very often, they fail to meet Florida's strict requirements that every will must show. Florida's statute of wills only classifies a holographic will as valid if two criteria are met. The first is that the testator must sign at the end (or, if they cannot write, their name must be "subscribed" at the end of the will by someone else acting in the testator's presence and on their order). The second is that there must be at least two witnesses, and those witnesses must sign the will in the presence of both each other and the testator.
It is also important to keep in mind that while most of the time, if a will is created in another state, it will be given credence by Florida courts, this is not true of a holographic will created in another state. The rationale is that a non-attorney will have the same level of skill (or lack thereof) no matter what state they are located in, and thus holographic wills are only honored if they comply with the Florida statute of wills – no matter what state they were executed in.
If Your Will Is Invalid
It may seem unlikely that your will could be ruled invalid even if it is holographic, but if it is, the consequences of that eventuality can be quite severe on your beneficiaries. People who die in Florida without a valid will subject their estates to what is called the intestacy process. This means that your assets will be disbursed according to state law, rather than according to your own wishes. Thus, certain beneficiaries you wished to avoid granting assets to may receive them as a matter of law, and the opposite is also true.
This can also cause problems in terms of deserving beneficiaries being denied. For example, stepchildren are often harmed by a person's will being declared invalid, because unless they have been adopted (making them legal children, rather than stepchildren) they share no blood relationship to the testator. It is a very good reason to ensure that your will is in order, because in extreme cases, people who you may have promised assets to may even be able to bring a contest to the will if they are denied.
Contact A Knowledgeable Attorney
Wills and estates are too important to leave to chance, even if you believe you have few assets to give away. Contacting an experienced wills and trusts lawyer can make a huge difference for you and yours. The Hollywood firm of Steven A. Mason, P.A. can work to ensure your will is valid and all your bequests will go to exactly who you wish to have them. Contact the Fort Lauderdale and Hollywood Law Offices of Steven A. Mason, P.A. for legal advice at 954-963-5900 or leave a message online.
Resource:
leg.state.fl.us/statutes/index.cfm?App_mode=Display_Statute&URL=0700-0