Warning Signs To Look For In Your Prenup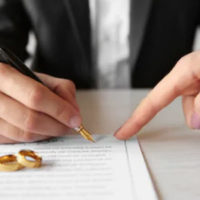 Prenuptial agreements are becoming commonplace nowadays, but not all prenups are created equal. There are certain provisions that cannot be put into a Florida prenup, and there are certain appearances that must be avoided during the time in which the agreement is being negotiated. If any so-called red flags appear or become known, the entire agreement may be rendered unenforceable.
Nothing Against Public Policy
Generally, Florida law will invalidate a prenup if its provisions are ruled to be against public policy. Public policy is a vague, amorphous concept that is essentially defined as the state's interest in their citizens' well-being. If something is held as being against public policy, essentially it means that it offends the natural order to a degree that it would not be in the best interests of the state to allow it to exist. For example, an employer firing an employee because the employee filed a discrimination charge is considered to be against public policy.
In a prenup, any provision requiring someone to break the law, or to agree to something unconscionable – for example, a provision demanding enough marital assets to render one spouse eligible for public assistance – is immediately unenforceable, and may wind up with the entire agreement being declared null and void. A prenup is a contract, and contracts are required to be both legal and equitable (fair).
No Fraud or Duress 
The other ways to make certain that a prenup is invalid is to use force or duress in getting your soon-to-be spouse to sign it. Since a prenup is a contract, all the principles of contract law apply, and in contract law there must be a 'meeting of the minds,' so to speak – both sides of a contract must be given the full picture of the situation, in order to make a decision fairly and unambiguously. Without full disclosure of both parties' assets and debts, no meeting of the minds can actually occur, because both spouses are not evaluating the same picture.
Fraud is prohibited, but also, any form of coercion or duress is generally enough to invalidate the agreement. Most people think of coercion as outright threats, but something like not granting your spouse enough time to review the proposed agreement may also fall under that umbrella. If both parties to a potential prenup have not received the same information and have not freely consented based on that information, the prenup cannot be enforceable.
Call A Hollywood Family Attorney
Prenuptial agreements can save couples considerable time and trouble, but only if they are executed correctly and fairly. The Hollywood family attorneys at the Law Offices of Steven A. Mason, P.A. has handled these types of cases for years, and we will work hard to ensure that yours is handled the way it should be. Contact our Hollywood office today to speak to an attorney.
https://www.stevenmasonpa.com/why-do-i-need-a-prenuptial-agreement/