What Are Appropriate Uses For Florida Child Support?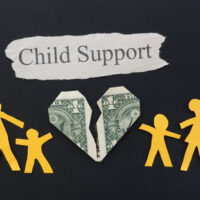 While Florida courts technically have no obligation to award child support to either parent during a divorce, the overwhelming majority of cases end with one parent incurring a support obligation. However, child support can still remain a bone of contention between the two parents, particularly if the divorce is less than amicable. One of the most common arguments that may happen in these cases is trying to establish that child support money is not being used appropriately. If it is successful, it can lead to fewer advantages for your children.
Must Cover Basic Needs
Child support is one of the few rights that belongs exclusively to the child it is intended to support, meaning that neither parent can simply waive the right or ignore it. Florida courts will always act in the best interests of the child, which means that they will put your children's livelihood over any minor inconvenience to you (though they will not impose such a hard support limit that it would put you in reduced financial circumstances).
It is designed, as one might imagine, to cover your child or children's basic needs such as education, medical care, day care (if applicable), and general necessities like food or shelter. A court does have the right to order one or both parents to contribute to certain other expenses like extracurricular activity fees, but there are always more potential costs that may have to be dealt with by the court on a case-by-case basis as they appear.
Misuse May Be Criminal
What actually constitutes 'misuse' of child support funds may be difficult to define – after all, everyone encounters unforeseen expenses from time to time. However, one of the most common clues that a use of child support funds may be unlawful is if the expenditure only benefits the parent – for example, gambling. Child support funds are meant to ensure that a child has food, shelter, clothing, and all the other basic needs, and Florida courts react harshly if there is evidence that those needs are not being met.
State law holds that any person who "willfully misapplies" funds intended to support a child is guilty of a first-degree misdemeanor, which carries a penalty of up to 1 year in jail. Future offenses will be tried as third-degree felonies, which carry more jail time and more fines and costs. In extreme cases, a parent who misuses child support funds can even be charged with child abuse, if it can be established that the needs of their child or children are so neglected as to place them in danger.
Contact A Hollywood Child Support Attorney
Child support should be a fairly uncomplicated endeavor in most cases, but sometimes parents either unwittingly or intentionally put funds that should be for their children toward their own wants. If you suspect this is happening in your family, contacting a Hollywood child support attorney can help you to decide where to go from here. Call the Law Offices of Steven A. Mason, P.A. today to speak to an attorney.
Resource:
leg.state.fl.us/statutes/index.cfm?App_mode=Display_Statute&URL=0000-0099/0061/Sections/0061.13.html