What Is Retroactive Child Support?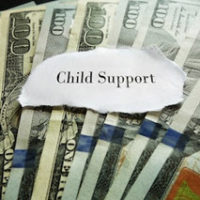 Child support is a hotly debated issue in many Florida divorces, and it can get even worse if retroactive child support is brought into the equation. Florida does allow for retroactive child support, but the concept is very confusing to many people, who may not be aware that they are on the proverbial hook for paying it. If you believe you are owed retroactive child support, contacting an experienced attorney can raise the odds that you will be successful in that suit.
Holding Parents Accountable
Florida law establishes a parent's duty of support that they owe to their children, which encompasses physical, emotional and financial assistance with maintaining their quality of life. However, this duty is not being fulfilled by an absent or negligent parent, and the state sees that as a breach of duty against the child, never mind the custodial parent. As a way to remedy that, the state permits the custodial parent to try and seek retroactive child support. This is most common in cases where a child's father is unknown at birth and later established, but there are many types of family law scenarios where retroactive child support can come into play.
Be advised that in many situations, you and your co-parent might be able to work out an agreement yourselves, without getting a court involved, but sometimes you may not. An agreement concerning retroactive child support is also subject to approval by the family court, meaning that if the court does not sign off on your agreement, you must start back at the proverbial square one. The court will veto agreements that seem to be unconscionable (patently unfair) or not in the best interests of your children.
How To Petition For Retroactive Child Support
Florida law allows a parent to seek retroactive child support dating back to the previous 24 months before the child support order was filed, not approved. Before the law on retroactive support was passed in 1998, a parent could sue for support all the way back to the child's birth, which could be quite cost prohibitive, but the modifications have generally served people better because they have a higher chance of actually collecting on the obligation.
The amount that is determined to be due is generally arrived at based on the obligor's income from the years before the last 24 months, though if you do not have the relevant records, the obligor's current income levels will usually be factored in. Regardless of the income level, though, it is critical to understand that any payment of retroactive child support does not affect the amount that they owe now. One payment does not erase all other obligatory payments. For the sake of your children, this is an issue that must be aggressively litigated.
Call A Hollywood Child Support Lawyer
Child support law is extraordinarily difficult for the average person to try and navigate by themselves. A Hollywood child support attorney can help cut through the confusion and give you concrete advice about how best to proceed in your case. The dedicated child support lawyers at the Law Offices of Steven A. Mason, P.A. are happy to try and help you. Call us today for personalized attention.
Resource:
leg.state.fl.us/statutes/index.cfm?App_mode=Display_Statute&URL=0000-0099/0061/Sections/0061.13.html
https://www.stevenmasonpa.com/child-support-in-high-income-families/