Who Should Have A Prenuptial Agreement?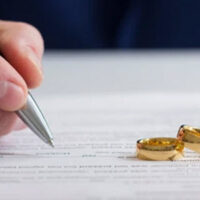 Prenuptial agreements are more common in this day and age than they have been at any point previously. The Centers for Disease Control (CDC) estimate that there were approximately 750,000 divorces in the United States in 2019, and more and more couples are seeking to minimize the time and trouble of divorce proceedings should they occur. Including that, there are several reasons why a couple might want to have a prenuptial agreement in place before their marriage.
To Avoid Divorce Court
It may seem too cold and pragmatic to execute a prenup in anticipation of divorce, but it is one of the most common reasons for a couple to have one, particularly if one or both of the spouses has been married before. Florida is one of the states that has adapted the Uniform Premarital Agreement Act (UPAA), which grants couples quite a bit of explicit leeway in creating their prenuptial agreement. The statute spells out the couple's right to buy, sell, distribute (in the event of one's passing) or dispose of property, as well as the right to alimony if applicable.
This relative laxity means that instead of spending time and trouble in divorce court, a couple can potentially agree on most of the issues beforehand and simply go their separate ways. Issues like alimony and asset division can be agreed upon and codified in a prenup, and a court will generally enforce the agreement, with rare exceptions. The only major issue that might appear in a divorce that cannot be disposed of in a prenup is child custody and parenting time.
Estate Planning
The other major reason that many couples decide to execute prenuptial agreements is related to estate planning. Florida law is quite generous to surviving spouses, granting them the right to take what is known as the elective share (by law, at least 30 percent of the estate), as well as the Florida homestead. A prenuptial agreement can alter or restrict those rights, as well as possibly setting boundaries to protect children of a previous marriage who would otherwise be disinherited if the law operated regularly.
Keep in mind that a prenup can be challenged. If it can be established that the agreement was the product of fraud, duress, or coercion, the court is likely to declare it unenforceable, though it requires a high standard of evidence to actually reach this point. As long as the court is convinced that both spouses received a full disclosure of the other's financial picture, it is unlikely to void the entire agreement unless there is incontrovertible proof that malice was involved.
Contact A Hollywood Prenuptial Agreement Attorney
A prenuptial agreement can help people in vastly different life situations ensure that their affairs are in order if something goes wrong. If you are interested in executing a prenuptial agreement in Florida, Hollywood family attorney Steven Mason and the Law Offices of Steven A. Mason, P.A. can assist you in making sure that the agreement is appropriate and enforceable. Contact our Hollywood offices today to schedule a consultation.
Resource:
cdc.gov/nchs/data/dvs/national-marriage-divorce-rates-00-19.pdf