Why Can't My Prenup Cover Child Support Or Custody?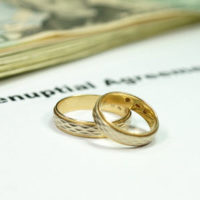 Florida law permits the existence of prenuptial agreements, or prenups, so as to protect the assets and well-being of both people who enter into a marriage. However, there are certain family law issues that are not permitted to be addressed within a prenup. The most commonly seen is the issue of child custody, with support a close second. For a multitude of reasons, it is not permissible to address these questions in a prenup in Florida.
Parents Cannot Bargain Away Obligations
What many people miss is that a prenup is essentially a contract. In contract law, two parties agree to abide by the terms they create unless those terms are unconscionable – in other words, unless the terms are so flagrantly unjust that they would be shocking to the average person. If two people formulate a contract, as parties do with prenups, the common holding is that the terms are valid per se, because otherwise one of the parties would attempt to nullify the contract.
Since parents have agreed to abide by these terms by the act of not voiding the prenup, they must abide by the rules of contract law, which hold that any provision in any contract that attempts to bargain away an obligation conferred on someone by law, because it is unconscionable. It is the child, not either parent, who holds the right to support, and by law, parents are obligated to provide it if possible. If a prenup attempts to set out that no support is owed by either parent, the clause is by definition unconscionable, because the right belongs to the child – it is not either parent's to contract away.
Courts Have The Final Say
Even aside from common-law contract regulations, in many states, Florida included, the courts have the final say in the disposition of child custody and support matters by operation of law. The state gives the courts the power to determine the support and custody situations that are in the best interests of the child – again, it is the child who holds the right to support, not the parents, so their needs and interests are the ones that must be of primary concern.
This matters because if it were permissible to dispose of custody arrangements or child support issues in a binding prenuptial agreement, there would be no guarantee that the "best interest of the child" at the time of the agreement's execution would mirror the "best interest of the child" at the time of the parents' separation or divorce. It is important to distinguish, however, that it is possible to make some provisions in a prenup regarding children, especially those from a previous marriage – for example, provisions holding that children of previous marriages will inherit your estate before any children born of this new marriage have been upheld. Custody and support simply present unique questions that a prenup is not equipped to answer.
Contact A Prenuptial Agreement Attorney
Prenuptial agreements can be difficult to draft correctly, especially if you are not well versed in this area of the law. Consulting an attorney who is can help the process go smoother, and help avoid any unconscionability issues. Steven A. Mason, P.A. and his Hollywood family law firm have experience with these issues, and are happy to assist you in ensuring that everything is as you want it to be, if at all possible. Contact the Fort Lauderdale and Hollywood Law Offices of Steven A. Mason, P.A. for legal advice at 954-963-5900 or leave a message online.
Resources:
leg.state.fl.us/statutes/index.cfm?App_mode=Display_Statute&URL=0000-0099/0061/Sections/0061.13.html
childwelfare.gov/pubPDFs/best_interest.pdf