Wills and Trusts: Advantages and Disadvantages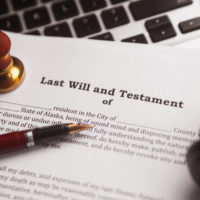 Florida is a state where approximately 20 percent of the population is over the age of 65, which is higher than average. As a person ages, they generally begin to put their affairs in order, starting with estate planning. However, there are multiple estate planning tools at a person's disposal, depending on family situation and overall financial health, and it is easy to be unsure as to which may be right for you. The two most common are wills and trusts, and there are positives and negatives to choosing each.
Wills Offer Tradition
The classic last will and testament has been chosen by millions for generations, and there are advantages to choosing one for your estate planning, especially if you have a relatively small pool of heirs. A will carries out the testator's intentions after they have passed away. One simply writes down their plan for which assets they wish to give to which heirs, and submits the resulting document to probate – unless it is found that undue influence was exercised or that the will is manifestly against public policy, it will generally be accepted to probate. The relevant statute stipulates the form that a will must take – namely, that two witnesses must sign in the presence of the testator and each other, and that the will cannot be holographic (that is, the will cannot be entirely handwritten unless signed by two witnesses and the testator, like any other will) or nuncupative (oral). Beyond that, the form of a will can vary significantly.
The common negative in estate planning via will is that any assets without specific beneficiaries owned solely in the person's name must go through probate, which can cost the estate significant fees and time. Probate is a process maintained by the state which essentially determines the validity of a will and its bequests, and accordingly, each bequest must be verified to be legitimate, without undue influence. Also, all debts of the estate must be paid, which can sometimes mean the estate must sell off assets instead of transferring them to the designated heir.
Trusts Offer Savings
By comparison, trusts, specifically living trusts, have different pluses and minuses, but are very commonly used in estate planning. A living trust is also sometimes called a revocable trust, which means that the assets stay in the estate (in an irrevocable trust, the assets in the trust move out of the estate entirely, which defeats the purpose of estate planning for most people). Generally, a person sets up a trust with themselves as trustee during their lifetime, so that they can still use their assets to make normal transfers (such as paying bills). If they are incapacitated, or upon their passing, a successor trustee will pay all debts and distribute the remaining assets to the specified heirs.
Unlike wills, trusts do not have to go through probate, because the establishment of a trust transfers all your assets to the trustee (even if you are the trustee, it still counts in most instances as a legal transfer), so there is no need for the court to appoint a trustee to administer the estate, which is what probate basically is. This can make the distribution of a person's estate substantially simpler and less expensive, as long as the trust is fully funded during the settlor (the creator of the trust)'s lifetime.
Call An Experienced Estate Planning Attorney
There are many other factors that may influence someone to decide on a will, a trust, or both during their estate planning process. If you have further questions on how best to proceed in your own case, contacting a knowledgeable attorney is a good step to take next. The Law Offices of Steven A. Mason, P.A. is experienced with estate planning and is happy to put that experience to work for you. Contact the Fort Lauderdale and Hollywood Law Offices of Steven A. Mason, P.A. for legal advice at 954-963-5900 or leave a message online.
Resources:
census.gov/quickfacts/fact/table/fl/PST045217
leg.state.fl.us/statutes/index.cfm?App_mode=Display_Statute&URL=0700-0799/0736/Sections/0736.0602.html
leg.state.fl.us/statutes/index.cfm?App_mode=Display_Statute&URL=0700-0799/0732/Sections/0732.502.html