Can I Have An Emotional Support Animal In My Condo?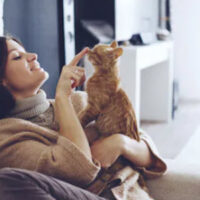 In this day and age, more and more people have emotional support animals (ESAs), as well as those who have service animals to assist them with their disabilities. However, in Florida, many people are finding that their homeowners' associations and condominium boards are pushing back against ESAs in their dwelling places, even though state and federal law requires they be allowed in many situations. If you are encountering an issue with this type of request, contacting an attorney will be a good idea.
ESAs vs Service Animals
It is important to distinguish, first and foremost, between ESAs and service animals.  Service animals are those which have been trained specifically to assist a disabled person with tasks related to quality of life, and they are covered under the Americans With Disabilities Act (ADA) as being permitted in public places and in privately owned places that serve the public, such as restaurants and retail stores. In housing, service dogs and miniature horses must be granted access under the Fair Housing Act.
ESAs, by comparison, have no specialized training, and are not recognized under the ADA, meaning they cannot be brought into public places in the same way as a service animal can. They are, however, recognized under the Fair Housing Act, which means that landlords must allow both service dogs and ESAs provided their owners meet all the other legal requirements to have them. Despite this, HOAs and condo boards will often try to subvert tenants' legal rights to have these animals.
Pushback From Landlords & Associations
It is, on some level, understandable that condo boards in particular might be reluctant to admit ESAs and service animals, especially given the frequency of people misrepresenting their pets. The pattern has been so frequent in recent years that in 2015, Florida made it a second-degree misdemeanor to misrepresent your dog as a service animal. However, the federal Fair Housing Act allows for ESAs and service animals in condominiums, so as to allow disabled people the equal opportunity to 'use and enjoy' the home in the same manner as an able-bodied person.
The only reasons for a condo association to be able to deny your ESA request in a standard sized association (that is, more than 5 units with the landlord not living in one of them), assuming that the other paperwork has been completed appropriately, are either (1) your animal cannot be reasonably accommodated – for example, a large dog in a small studio apartment; or (2) your ESA would pose a direct threat to other residents' health and safety.
Call A Hollywood Condo Law Attorney
Because the idea of emotional support animals is such a relatively new phenomenon, many associations and landlords are not aware of tenants' rights with regard to companion animals. If you suspect that your condo association is unfairly denying you access because of your ESA or your service animal, contacting an attorney who understands this area of law is crucial. Attorney Steven A. Mason has many years' experience in condo law and is ready and willing to try and assist you. Contact the Law Offices of Steven A. Mason, P.A. today to speak to a Hollywood condo association attorney.
Resources:
flsenate.gov/Laws/Statutes/2018/413.08
ada.gov/archive/qasrvc.htm
https://www.stevenmasonpa.com/55-housing-communities-and-the-fair-housing-act/