Child Custody In Military Divorce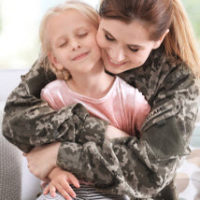 When military servicemembers get divorced, there are a host of factors that need to be dealt with that civilians generally do not have to worry about. For example, in child custody proceedings, parents have to plan for deployments and changes in station, as well as any other unforeseen complications that might infringe on parenting time and visitation. If you are in this position and have questions, enlisting the help of a knowledgeable attorney is a good way to help clear things up.
Many Aspects Are The Same
Establishing child custody between the parents in a military divorce is generally done in the same way as it would be in a civilian divorce. The court will investigate several factors that might make a difference in determining the best possible custody arrangement for the child, including, but not limited to, the child's relationship with both parents, the child's preference (if they are old enough to formulate a genuine preference), the mental and physical health of both parents, and any past evidence of family violence or abuse.
The issue of child support will also always come up; the court will weigh the parents' financial situation like it would in any other case, but if both parents are awarded joint custody, the child support burden may be affected by deployment of the military service member because then a child care shift may also be necessary.
Relocation & Deployment Issues
Even once custody has been established in a military family, it is possible that the arrangement will have to change, whether temporarily or permanently, especially if one or both parents are deployed. Florida law states that during deployment, the court is forbidden from making any kind of permanent change to the parenting plan. However, a temporary change can be made if the court holds that it would be in the child's best interests to allow it, up to and including another family member being designated as a temporary guardian.
If a change of station is permanent, as opposed to temporary, this can prove a problem for active duty military parents, who must then try to follow relocation protocol in order to keep having visitation with their children. While a Florida court will generally grant joint custody to parents as long as neither is declared unfit (that is, if it would not be "detrimental to the child"), this still means that an active duty military parent may have to relinquish custody if the court deems that it is in the best interests of the child for them to do so.
Contact A Hollywood Child Custody Lawyer
Child custody is always complex, and can be the source of significant disagreement, especially if you or your co-parent are in the military. The Hollywood family attorneys at the Law Offices of Steven A. Mason, P.A. do extensive work with military families and we are happy to work hard for yours. Contact our Hollywood office today to speak to an attorney.
Resources:
leg.state.fl.us/statutes/index.cfm?App_mode=Display_Statute&URL=0000-0099/0061/Sections/0061.13.html
leg.state.fl.us/Statutes/index.cfm?App_mode=Display_Statute&Search_String=&URL=0000-0099/0061/Sections/0061.721.html
https://www.stevenmasonpa.com/warning-signs-to-look-for-in-your-prenup/