Condos and Hurricanes: Who Is Liable For Damages?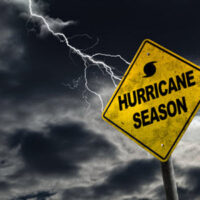 Hurricane season is a fact of life in Florida, and if you are unfortunate enough to sustain damage to your condominium, it is understandable to want things to get back to normal as quickly as possible. However, there can sometimes be confusion about who is required under Florida law to pay for which repairs. Given that 2020's hurricane season has not yet concluded, it is a good idea to understand your obligations.
Casualty Events
In terms of what will be covered and what will not, the question is whether the event that caused the damage was a "casualty event." Florida law defines this as something that is out of the normal course of events, that happens "suddenly, unexpectedly, and without design" of the injured person. While damage that can be directly attributable to a hurricane, such as a damaged roof, will generally be coverable by your association's property insurance policy, it can be much more difficult to get indirect damage covered – for example, a water leak not discovered for days or weeks after the storm.
If the insurer determines that the damage is due to the casualty event, the Florida Condominium Act then sets out who is required to cover which damages. Generally, the condo owner is required to carry insurance that covers "the paint in," meaning everything in the condo from the paint inward. This includes window treatments, built-in countertops, and electrical fixtures. However, common elements are classified as the responsibility of the condo association.
Will The Insurer Pay?
If you have sustained damage to your condominium due to a hurricane, it is crucial to provide notice to your insurer as quickly as possible, because no insurer will simply consent to pay for all repairs. Generally, the insurer will do a thorough investigation, after which it will consent or refuse to cover repairs. While this can be difficult to deal with – delays mean more time where your home is uninhabitable, in theory – it is crucial to discover how much damage to the unit, if any, was created by the storm.
If your insurer refuses to pay, the claim may be settled by litigation, but you may also be able to use alternative dispute resolution, either through presuit mediation (the state of Florida has established a program to help settle insurance claims, though participation in the program is voluntary) or through appraisal, which is essentially binding arbitration. Regardless of which path you choose, you will need an experienced attorney who is well versed in this type of case – it is almost always more trouble than it is worth to go it alone.
Call A Hollywood Condominium Lawyer
Condominium law is notoriously complex and confusing for the average person, and if your unit sustains damage, it is crucial to consult a knowledgeable Hollywood condo association attorney so you have a good idea of your options going forward. The Law Offices of Steven A. Mason, P.A. has handled many condominium cases over the years, and is ready to try and help you with yours. Call our Hollywood offices today to schedule a consultation.
Resource:
courtlistener.com/opinion/1089724/shelby-mutual-ins-co-v-ferber-sheet-metal-works-inc/
https://www.stevenmasonpa.com/common-covid-19-questions-for-condo-owners/