Prenuptial Agreements For Average Couples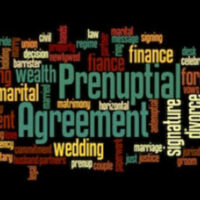 Too often, the average person thinks of prenuptial agreements, called prenups, as things that only benefit the rich, but in reality, they can be very helpful for couples nowhere near the top tax bracket. Prenups can help to settle a lot of different potential issues in the event of a divorce, which can save you time and trouble in court, especially if you fear that a divorce would not be amicable. In addition, prenups can cover some types of estate planning, so that spouses or children can get some peace of mind in the event of a sudden passing.
Allows Couples To Preemptively Set Terms
Many couples do not see the point of a prenup if they do not have large asset portfolios to divide. However, Florida prenuptial agreements can cover a long list of issues that two people might otherwise have to debate with a mediator or in open court. For example, the parties to a prenup have the right to decide between themselves to "buy, sell, use, transfer" or otherwise dispose of any property they might have owned together. They also have the right to work out spousal support (or lack thereof) between themselves.
The only real divorce-related question that cannot be contracted away in a prenup is the issue of child support, and this is because the right of support belongs only to the child in question. (Many believe that it belongs to the custodial parent, but this is not the case in Florida.) The parents cannot contract away a right that does not belong to them, and even if they could, they would not be able to do it before their child was born.
Allows Couples To Handle Estate Planning
The other major reason to look into a prenuptial agreement even if you have low or middling income is estate planning. Making a will or establishing a trust is a time-consuming endeavor, and for some people, it does not seem necessary. However, a prenup may be a way to ensure that your spouse or any children of this marriage are taken care of in the event of your passing, in that it can be used to keep some assets separate (and thus not subject to being divided between your heirs when you pass away).
Be advised that in Florida, any gifts or responsibilities granted to a spouse in your will are immediately invalidated once your divorce decree becomes final, and if you want that bequest to still go to your now-former spouse, you must take steps to reaffirm that after your divorce is final. If you do not, your prenup will still allow them to retain certain assets as separate, but they may not receive anything you specifically grant to them in your will.
Contact A Hollywood Prenuptial Agreement Attorney
Prenuptial agreements grant the gift of convenience and peace of mind, as knowing that you and your spouse have dealt with some potentially thorny issues before you take the proverbial plunge can definitely ease some fears, regardless of your wealth or lack thereof. If you have questions or concerns about how to execute a prenup, calling a Hollywood family attorney at the Law Offices of Steven A. Mason, P.A. can be of great help. Attorney Mason is happy to try and assist you. Call us today to schedule a consultation.
Resource:
leg.state.fl.us/Statutes/index.cfm?App_mode=Display_Statute&URL=0000-0099/0061/Sections/0061.079.html
https://www.stevenmasonpa.com/prenuptial-agreements-second-marriages-2/