Red Flag In Your Florida Prenuptial Agreement?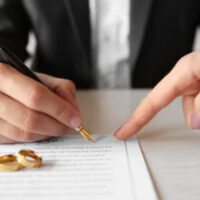 As second and even third marriages have become more common in the U.S., so have prenuptial agreements, known as prenups. However, it is important to be aware of everything in them, because a prenup can govern the outcome of your marriage far down the road if you are not careful about consenting to the language used. If you are thinking about signing a prenup, but you see something problematic, contacting an attorney before signing is always a good idea.
Not Too Much Control
Most prenups are relatively straightforward, executed by soon-to-be spouses who have provided each other with full financial disclosures about their financial status. If each spouse feels like they have all the relevant information, they are more likely to sign the prenup having given full consent. Florida's law on prenups is fairly short and to the point; it specifies more of what one can contract over than what one cannot. However, this does not mean that provisions that would actively shock a reasonable person's consciousness will be acceptable in court.
Effectively, Florida's prenup law states that one can contract with their soon-to-be ex-spouse on almost anything – property division, alimony or lack thereof, and so on – though there is one exception. That exception is child support, which cannot be disposed of in a prenup for any reason. The rationale is that the right of support belongs to any future child that the couple may have, and not to the couple. One cannot, in turn, regulate or sign away rights that do not belong to them.
"Fair and Reasonable Provision"
There are other potential issues that may appear during the process of creating and signing a prenuptial agreement. Florida's jurisprudence has isolated several different reasons that might be used to declare a prenup invalid besides duress or coercion. One of them includes a requirement of a "full and frank disclosure" of one's net worth and financial obligations; a person has the right to be aware of any potential financial obligations they may wind up on the hook for fulfilling (in some situations, a spouse can be held liable for the debts of the other). Failure to disclose can imply fraud.
One thing it is important to keep in mind is that even if you do not take these red flags to heart before your marriage, it is possible to use them as means to have the prenup ruled unenforceable afterward. Florida prenuptial agreements must make "fair and reasonable provision" for each spouse, and while 'fair and reasonable' is a subjective concept, there are certain behaviors that a court will generally recognize as either unfair to the person, or against public policy generally. If a prenup will place a person in physical danger, or close to penury, or offends some interest of the state, the agreement will generally be invalidated.
Contact A Hollywood Prenuptial Agreement Attorney
Prenuptial agreements can be very simple and straightforward, or they can have complex provisions that require an experienced eye. If you are deciding whether or not to sign a prenuptial agreement, it is crucial to contact a Hollywood family attorney to determine your best course of action. Attorney Steven A. Mason has years of experience in handling these matters, and will work hard to help you with yours. Call the Law Firm of Steven A. Mason, P.A. today to schedule a consultation.
Resource:
eg.state.fl.us/Statutes/index.cfm?App_mode=Display_Statute&URL=0000-0099/0061/Sections/0061.079.html
https://www.stevenmasonpa.com/prenuptial-agreements-for-average-couples/